Funderdome is a new television series providing seed capital to aspiring Inventors and business minded individuals.
ArmRestor was a proud participant in the first season of the Funderdome. As you can see, Steve Harvey was having his good time with the ArmRestor.
The new show adds some twist to traditional funding series by allowing the audience to chose the best marketable product with the most potential to succeed. The show adds some new elements with head to head vetting, good family entertainment with innovative products.
We will bring updates on the ArmRestor as it premiers on the show, adding new clips, photos, results and more.
http://2paragraphs.com/2017/06/armrestor-where-to-buy-25-car-door-armrest-on-funderdome/
June 18, 2017 ArmRestor won the competition for the best product by the studio audience. More highlight of clips and photos and more soon to be posted.
If you haven't guessed, We Won!!!!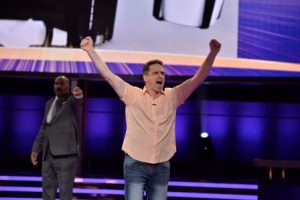 See our segment>>>> http://abc.go.com/shows/steve-harveys-funderdome/episode-guide/season-01/2-episode-2